Challenges facing management practice in the light of Industry 4.0: The example of Poland
Keywords:
Industry 4.0, cyber-physical systems (CPS), robotisation
Abstract
The article outlines selected challenges brought by Industry 4.0 as well as consequences for Polish businesses in the modern process of their management. The concept is based on a close connection between physical objects and information network. Sophisticated networks of businesses are being created, connected with smart resources communicating via the Internet. This means cooperation within implemented cyber-physical systems affecting a company's environment, its production model, value-added chain of business processes and organisational structure.
Downloads
Download data is not yet available.
References
Badurek J. (2015), Przedsiębiorstwo informacyjne, Systemy produkcyjne nowej generacji, Wydawnictwo Politechniki Gdańskiej, Gdańsk
Bartodziej Ch. J., (2016), The Concept Industry 4.0: An Empirical Analysis of Technologies and Applications in Production Logistics, Springer Gabler, Springer Fachmedien GmbH Wiesbaden.
Bartoszewicz G. (2017), Wykorzystanie metod zarządzania procesowego BPM w celu zwiększenia efektywności złożonych procesów logistyki 4.0 w systemach ERP 2.0, [in:] P. Cyplik, M. Adamczak, Wybrane problemy współczesnej logistyki w świetle badań naukowych i praktyki biznesowej, Wydawnictwo Wyższej Szkoły Logistyki, Poznań.
Bis J. (2013), Innowacyjny model biznesowy – sposób na zwiększenie przewagi konkurencyjnej, [in:] B. Kożuch (eds.), Przedsiębiorczość i zarządzanie, Wydawnictwo SAN, Vol. XIC, Issue 13, Part II.
Digitalization Productivity Bonus: Sector Insights, Raport. https://new.siemens.com/global/en/products/financing/whitepapers/whitepaper-the-digitalization-productivity-bonus-sector-insights.html
Frankowska M., Malinowska, M. Rzeczycki A. (2017), Kształtowanie modeli biznesu w erze Industry 4.0, [in:] R. Matwiejczuk, L. Pisz (eds.) Logistyka w naukach o zarządzaniu. Przedsiębiorczość i zarządzanie, Vol. XVIII/8.
Geissbauer R., Vedso J., Schrauf S. (2016), Industry 4.0: Building the digital enterprise. 2016 Global Industry 4.0 Survey. PWC.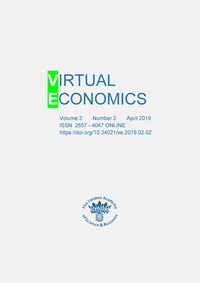 How to Cite
Miśkiewicz, R. (2019). Challenges facing management practice in the light of Industry 4.0: The example of Poland. Virtual Economics, 2(2), 37-47. https://doi.org/10.34021/ve.2019.02.02(2)