The formation of interstate and cross-border scientific-educational and innovative spaces between Ukraine and the European Union member states in the digital economy
Keywords:
scientific-educational and innovative spaces, digital economy, the Fourth Industrial Revolution, the European Research Area, digital technologies, high-technology cluster
Abstract
By signing the Association Agreement between the EU and Ukraine, Ukraine has demonstrated its intention and willingness to integrate into the system of formal institutions of the EU, to adopt the EU rules, norms, and practices, which will enable Ukraine to achieve significant economic benefits. One of those benefits is the opportunity to build a true scientific-educational and innovative partnership with the EU Member States within the European Research Area. This study considers opportunities and perspectives of creating an interstate and cross-border scientific-educational and innovative spaces between Ukraine as an associated country and the European Union Member States taking into account key priorities of the ERA and rapidly growing impact of digital technologies. Particular attention has been given to the establishment of a common Polish-Ukrainian scientific-educational space which could be complemented by the entrepreneurial component. The article has identified opportunities, existing prerequisites, directions, and priorities for building Polish-Ukrainian spaces. It has also defined the challenges of formation the European interstate and cross-border scientific-educational and innovative spaces as a whole. It has been suggested to develop hereinafter an interstate and cross-border high-tech clusters based on the interstate and cross-border scientific-educational and innovative spaces. The scheme and the main steps of formation a cross-border cluster of nano- and biotechnologies are proposed.
Downloads
Download data is not yet available.
References
Goldberg, I., Goddard, J. G., Kuriakose, S., Racine, J.-L. (2011). Igniting Innovation: Rethinking the Role of Government in Emerging Europe and Central Asia. Retrieved from https://openknowledge.worldbank.org/handle/10986/2358.
The Organization for Economic Co-operation and Development. (2013). Regions and Innovation: Collaborating across Borders. OECD Reviews of Regional Innovation, OECD Publishing. Paris. Retrieved from http://dx.doi.org/10.1787/9789264205307-en.
Cooke, P. (2001). Strategies for regional innovation systems: learning transfer and applications. Centre for advanced Studies Сardiff university. Retrieved from http://www.paca-online.org/cop/docs/P_Cooke_Strategies_ for_regional_innovation_systems.pdf.
Schwab, K. (2015). The Fourth Industrial Revolution. Schwab, K. (2015): Currency. URL: https://luminariaz.files.wordpress.com/2017/11/the-fourth-industrial-revolution-2016-21.pdf
World Economic Forum. (2018а). The Readiness for the Future of Production Report 2018. Retrieved from http://www3.weforum.org/docs/FOP_Readiness_ Report_2018.pdf.
Shelagh, D. (2018). How the Internet of Things will transform consumerism, enterprises, and governments over the next five years. Business Insider. 2018. July 19. Retrieved from: https://www.businessinsider.com/iot-forecast-book-2018-7.
Ross, A. (2017). Industrii maibutnoho [The Industries of the Future]. Kyiv: Nash format.
Juniper Research. (2014). Smart Home revenues to reach $71 billion by 2018. Juniper Research Finds. Retrieved from https://www.juniperresearch.com/press-release/smart-home-pr1
Kurzweil, Ray. (2005). The singularity is near: when humans transcend biology. Penguin Books. URL: http://stargate.inf.elte.hu/~seci/fun/Kurzweil,%20Ray%20-%20Singularity%20Is%20Near,%20The%20%28hardback%20ed%29%20%5Bv1.3%5D.pdf
European Commission. (2017). European Research Area Progress Report 2016. Report from the commission to the council and the European parliament. URL: http://ec.europa.eu/research/era/pdf/era_progress_report2016/era_progress_report_2016_com.pdf
Gunther, J., Latifi, G., Lubacha-Sember, J., Tobelmann, D. (2017). Scientific Cooperation in a German-Polish Border Region in the Light of EU Enlargement. Foresight and STI Governance, vol. 11, no 1, 42–53. DOI: 10.17323/2500-2597.2017.1.42.53.
Grande, E. & Peschke, A. (1999). Transnational cooperation and policy networks in European science policy-making. Research Policy. Volume 28, Issue 1, January 1999, 43-61. DOI: 10.1016/S0048-7333(98)00099-7
Tumelero, C., Sbragia, R. & Evans, S. (2019). Cooperation in R & D and eco-innovations: The role in companies' socioeconomic performance. Journal of Cleaner Production, vol.207, 10 January 2019, 1138-1149. DOI: 10.1016/j.jclepro.2018.09.146.
IGI Global. Disseminator of knowledge. (2019). What is Systemic approach? URL: https://www.igi-global.com/dictionary/systemic-approach/29095
World Economic Forum. (2018b). The Global Human Capital Report 2017. Preparing people for the future of work. Retrieved from https://weforum.ent.box.com/s/dari4dktg4jt2g9xo2o5pksjpatvawdb.
Pająk, K., Kamińska, B., & Kvilinskyi, O. (2016). Modern trends of financial sector development under the virtual regionalization conditions. Financial and credit activity: problems of theory and practice, 2(21), 204-217 Retrieved from: http://fkd.org.ua/article/ view/91052/92128.
Ivanov, S., Liashenko, V., & Pidorycheva, I. (2017, July). «Innovatsiinyi lift» yak instrument zabezpechennia staloho rozvytku [«Innovative lift» as an instrument for achieving sustainable development]. Sotsialno-ekonomichnyi rozvytok krainy v konteksti intehratsiinykh protsesiv: dosvid, problemy, perspektyvy: zbirnyk materialiv Vseukrainskoi naukovo-praktychnoi konferentsii. HO «Kyivskyi ekonomichnyi naukovyi tsentr», Kyiv, 78-81.
Liashenko, V., & Pidorycheva, I. (2017). Rehionalni naukovi tsentry NAN Ukrainy ta MON Ukrainy yak yadro rozbudovy rehionalnykh innovatsiinykh system v umovakh detsentralizatsii [Regional science centers under NAS and MES of Ukraine as the core of the development of regional innovation systems in the context of decentralization]. Economic Herald of the Donbas, 1 (47), 13-20.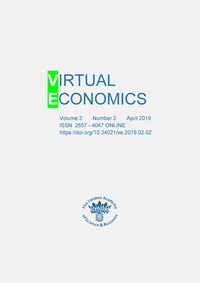 How to Cite
Lyashenko, V., & Pidorycheva, I. (2019). The formation of interstate and cross-border scientific-educational and innovative spaces between Ukraine and the European Union member states in the digital economy. Virtual Economics, 2(2), 48-58. https://doi.org/10.34021/ve.2019.02.02(3)