Marketing Communications: Ongoing Trends and Options
Keywords:
marketing communication, social development, promotion, advertising, brands, trends, digital marketing, transformation of social values
Abstract
This article studies trends in the development of marketing communications as a result of business space transformation and the emergence of new values that are the main determinants of social development in the modern world. This article highlights the main preferences and expectations of users of different promotion channels, which provide the basis for predicting their further use and development. It studies the impact of advertising and promotion channels on the purchase by younger and older generation. Various channels of marketing communications are considered, including the most effective digital marketing methods according to marketers around the world. There are analysed data users such as companies that intensively create, operate, collect and analyse digital data and use what they learn to improve their business. Special attention is paid to the use of such a powerful and promising communications tool as AI, which can significantly affect the quality and speed of service. Commercial content on social media has become the new normal, and users are actively exploring it. It is analysed how niche influencers will play a leading role in promoting commercial content on social media. There is described a way to achieve advanced digital technologies that allows marketers to reach the maximum share of the target audience and establish effective channels of communication with consumers, immersing deeper directly into the sales process.
Downloads
Download data is not yet available.
References
Bilan, Y., Pimonenko, T., & Starchenko, L. (2020). Sustainable business models for innovation and success: Bibliometric analysis. E3S Web of Conferences. https://doi.org/10.1051/e3sconf/202015904037
Chaffey, D., Ellis-Chadwick, F., Mayer, R., & Johnston, K. (2006). Internet Marketing Strategy, Implementation and Practice. Financial Times Prentice Hall, 579.
Deloitte Insights. (2021) Global Marketing Trends. Retrieved from https://cutt.ly/sHSLsge
Gray O., Odelli C., & Pearson J. (2015). Digital Marketing Communications. EASA The European Advertising Standards Alliance.
Hoffman, D., Novak, D. (1996) Marketing in hypermedia computer-mediated environments. Journal of Marketing, 60, 50-68.
Haliuk, Ya., Horda, A., Zaburmekha, Ye (2019). Methods of attracting consumer attention using SMM. 36 Bulletin of the Khmelnytskyi National University. Economic Sciences, 5, 57-60.
Kryvenko, Ya., & Beliaev, L. (2019). Digital marketing in the system of integrated marketing communications. Collection of Student Research Papers. Odesa: Odesa National Economic University, 1, 135-144.
Кwilinski, A. (2018). Mechanism of Modernization of Industrial Sphere of Industrial Enterprise in Accordance with Requirements of the Information Economy. Marketing and Management of Innovations, 4, 116-128. http://doi.org/10.21272/mmi.2018.4-11
Кwilinski, A. (2019). Implementation of Blockchain Technology in Accounting Sphere. Academy of Accounting and Financial Studies Journal, 23(SI2), 1-6.
Kwilinski, A., Tkachenko, V., & Kuzior, A. (2019). Transparent Cognitive Technologies to Ensure Sustainable Society Development. Journal of Security and Sustainability Issues, 9(2), 561-570.
Letunovska N.E., Khomenko L.M., Lyulyov O.V. et al. (2021a). Marketing in the digital environment: a manual. Sumy: Sumy State University, 259.
Letunovska, N., Lyuolyov, O., Pimonenko, T., & Aleksandrov, V. (2021b). Environmental management and social marketing: a bibliometric analysis. In E3S Web of Conferences, 234.
https://doi.org/10.1051/e3sconf/202123400008
Melnik, Yu., Saher, L., Illiashenko, N., & Ryazantseva, Yu. (2016). Classification of basic forms and types of marketing on-line communications. Marketing and Management of Innovations, 4, 43-55.
Nesterenko, V., Rosokhata, A., Syhyda, L., Moskalenko A. (2021). Comparative analysis of marketing communications changes under the influence of COVID-19. Bulletin of the Cherkasy Bohdan Khmelnytsky National University Economic Sciences, 4, 4-10.
Oklander, M., Oklander T., & Yashkina O. (2017). Digital marketing: marketing model of the 21st century. Odesa: Astroprint, 292.
Rosokhata, A., & Shapoval, V. (2020). Theoretical bases of priority and perspective innovative development on the inclusiveness principles Inclusive Growth: basics, indicators and development priorities. Publishing House: Centre of Sociological Research, 2020, 141-150.
Rosokhata, A., Khomenko, L., Jasnikowski, A., & Dmytruk, K. (2021). Methodical Tools Research of Place Marketing Via Small and Medium Business Development. Modern Economics, 29(2021), 156-162.
Statista. (2021). Retrieved from https://www.statista.com
Yang, C., Kwilinski, A., Chygryn, O., Lyulyov, O., & Pimonenko, T. (2021). The Green Competitiveness of Enterprises: Justifying the Quality Criteria of Digital Marketing Communication Channels. Sustainability, 13(24), 13679.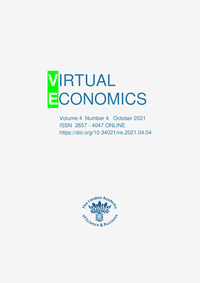 Downloads
How to Cite
Nesterenko, V. (2021). Marketing Communications: Ongoing Trends and Options. Virtual Economics, 4(4), 21–32. https://doi.org/10.34021/ve.2021.04.04(2)